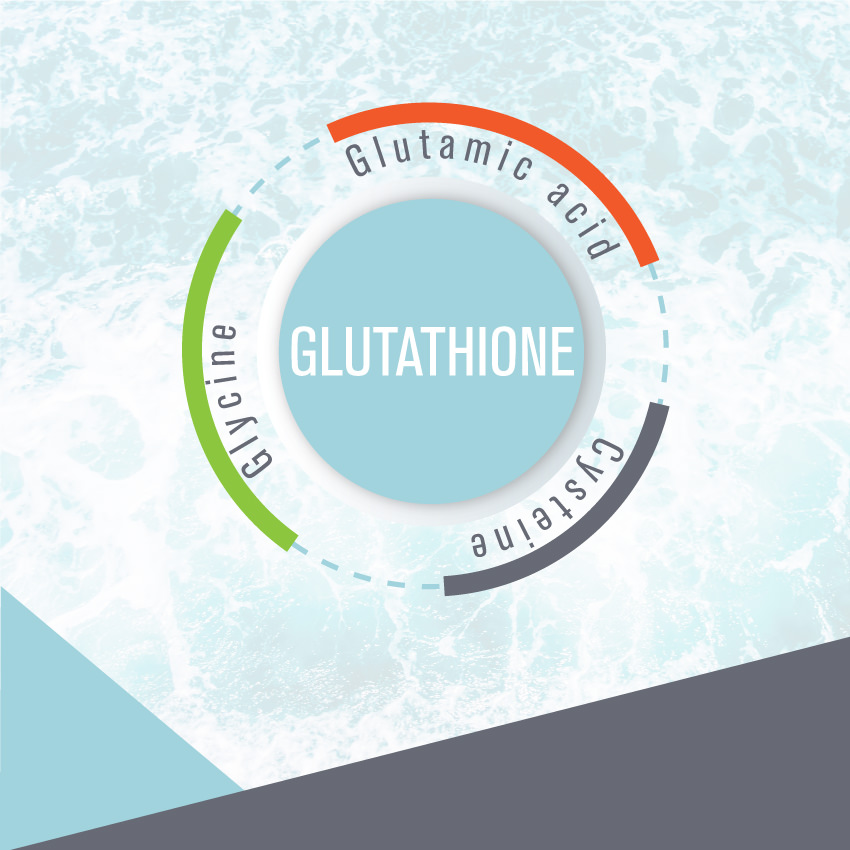 What do you think of when you think "vitamins?" Typically capital letters come to mind, such as B, C, E, and D. Most of us have learned about these popular vitamins and what they do for your body in grade school. What about amino acids? Most of the time, those get left behind. Well, we just can't let that happen any longer!
Let's start by learning about "The Master Antioxidant"!
Glutathione (pronounced gloo-tuh-thai-own) is a powerful antioxidant found in every cell of the body. It is composed of three amino acids, cysteine, glycine, and glutamic acid, making it a tripeptide. Glutathione is the only known intracellular antioxidant meaning it works from inside your cells keeping your cells strong and healthy by preventing and delaying cell damage. In addition, we are capable of producing glutathione in our liver which makes it very unique, since that is not true for most other antioxidants. One of the things that make glutathione the most powerful antioxidant is its capability to neutralize your body and protect it from free radicals. Free radicals are atoms with an odd number of electrons. If free radicals interact with certain types of molecules in your body, they can cause damage to your DNA and impair or kill cells leaving you susceptible to illnesses and diseases. Glutathione also regenerates vitamin C and E, provides support to your immune function and recycles other antioxidants that are essential to your body.
Glutathione can help:
Brighten your skin
Reduce inflammation
Heal injuries
Fight infection and viruses
Promote gut health
Detoxify your liver
Treat autoimmune diseases
Things that may decrease your Glutathione levels are:
UV radiation
Chronic stress
Excessive alcohol use
Smoking
Poor diet
Certain medications (such as Tylenol)

 
Glutathione is optimal for:
Anti-aging
Athletes
Recovery
Detoxification
Elderly People
Fighting Disease
Everyday Health
How to boost Glutathione levels:
Taking glutathione supplements is shown ineffective. Your body may be able to increase its own glutathione production by taking supplements other than glutathione itself, such as vitamin C, vitamin E, or selenium. However, how well your body absorbs these supplements in order to stimulate production is highly dependent on your age, health, body chemistry, and many other factors.
The best and most certain way to boost your glutathione levels is through an. Since an IV infusion bypasses your digestive tract completely, your body is able to absorb 100% of this master antioxidant. Your bloodstream will carry the glutathione to your brain, lungs, heart, muscle tissue, and all throughout your body to ensure you are fully benefitting from its amazing detoxifying and protective properties.
Why waste time and money on taking daily supplements when you can't be sure if and how much glutathione is hitting your system? Getting a glutathione IV infusion is the only way to guarantee maximum absorption so that you can start reaping the health benefits!